Come and join me as I talk with author Janice Green for her new picture book The First Christmas on Stories From Unknown Authors
http://blogtalkradio.com/storiesfromunknownauthors
@ 1pm EST.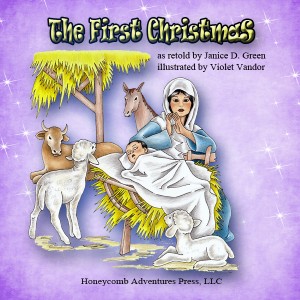 The First Christmas, by Janice D. Green, illustrated by Violet Vandor
, tells the account of the birth of Jesus Christ. Adults and children alike will enjoy snuggling up to share these thirteen colorful scenes and the engaging discussion questions as this timeless story unfolds. Even older readers may be surprised to learn something new as they read again of the Messiah's birth.
Order online:
The First Christmas
Mail order:
Honeycomb Adventures Press book order form
$9.95
Paperback
For families with children age 4-12 or Christian education
32 pages
ISBN 978-0-9836808-2-6
The First Christmas
is an ideal choice for putting the real meaning back into Christmas. Great for family sharing, Sunday school, Christian schools and homeschool families and groups. Watch
this link
for upcoming posts with ideas for supplemental activities to use in teaching along with
The First Christmas
.
http://honeycombadventures.com/books/the-first-christmas/