Come and join me as I talk with author Nicole Borgenicht on Stories From Unknown Authors about her book The Kids of Dandelion Township on
http://blogtalkradio.com/storiesfromunknownauthors
@ 1pm EST today.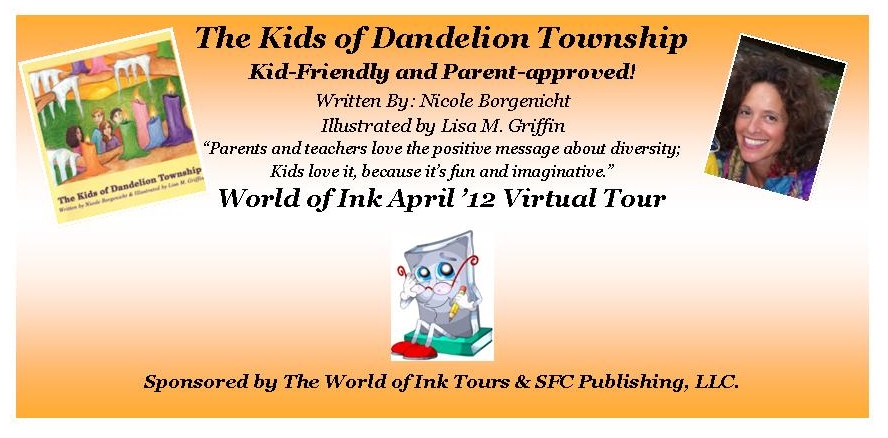 Author: Nicole Borgenicht
Illustrator: Lisa M. Giffen
Book: The Kids of Dandelion Township - chapter book for kids
Publisher: Create Space
ISBN-13:978-1466466401
ISBN-10:1466466405
Author Website:
www.nicoleborgenicht.com
Illustrator Website:
www.lisamgriffin.com
Blog Address:
http://lisamgriffin.blogspot.com
Twitter URL: LisaMGriffinArt
Facebook
URL:http://www.facebook.com/profile.php?id=1175304813
Facebook Fan Page URL:
https://www.facebook.com/pages/Lisa-M-Griffin-Illustration/126529427398885
Author Bio:
Nicole Borgenicht is a children's fiction writer. Her most recent picture book is The Bridge published by Publish America. Some of Nicole's other kid's stories have appeared in The Los Angeles Times Kid'sReading Room section, Stories for Children Magazine and LadyBug FlightsMagazine. Additional works comprise poetry and essays, short stories, one actplays or articles in magazines such as Arts and Entertainment Skyline andAmerican Fitness.
Summary:
The Kids of DandelionTownship is a story about new friends who in the process of discovering magic together, learn about their similar emotions and different cultures. All in the context of a child's day, the kids unravel mysteries of A students, and invent ways to be creative while completing their homework assignments. Preparing the way for children to receive magic, the kids of Dandelion Township wish all children will experience it one day.
Review:
The Kids of Dandelion Township is a chapter book of 5 different events where children of various cultures and backgrounds are free to roam the mystical forests, the meadows, the zoos, and primarily the town, without much interference from adults allowing the children to experience life to its fullest and to come up with their own resolutions.
They use their imaginations to create special moments of understanding for the reader concerning various topics like friendship, bravery, love and getting good grades. The author wants the reader to enjoy unstructered free play and for adults to be able to do the same. Life has become so structured that children are not able to run around and play the way they would like to. This story reminds parents that children need that play time.
One quibble is that some parents might have an issue with the children having no unnecessary parental supervision, allowing the children to do whatever and to go where ever they want, because as all parents know that if you give too much freedom to a child, they will get into trouble because of it. Children of all ages need supervision. This topic was emphasized by the author and sometimes justified, so it somewhat set the stage for a parents approval or dissaproval of it, instead of just allowing the reader to flow with the fact that the story's fiction. Realistically, there needs to be a balance between structure, responsibility and free play in a child's life.
Children of all ages are going to enjoy the magical worlds the children of Dandelion Township create in this 53 page chapter book, and their bonds of friendship which extends beyond the boundaries of religion and culture.