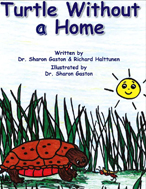 Come and join me as I talk with author Dr. Sharon Gaston and Richard Halttunen on Stories From Unknown Authors about their book Turtle Without A Home on
http://blogtalkradio.com/storiesfromunknownauthors
@ 6pm EST today.
Summary:
Ted the Turtle searches for the perfect home after his habitat has been polluted. He explores where ants, squirrels, and other animals live in nature. This children's book exposes children to environmental issues, such as turtle conservation, ecosystems, and litter prevention.
For purchasing info, please check out the following site:
http://www.turtlewithoutahome.com/
Review:
Turtle Without a Home is a simply told story about how polluted habitats affect various types of animals. Ted the turtle wandered everywhere to find a new home after his pond was polluted, and he found it at an elementary school who had created a habitat to observe and take care of. Children will enjoy the new friends Ted makes along his journey as well as how schools can help create various animals habitats.
There are some powerful messages in this book that children will be able to learn from. Though a quibble would be that I think it would've also have been beneficial for the reader to see how the characters could've helped clean up the old habitat and return it to it's natural state, instead of just creating a new one to replace it. Though creating a new one certainly helps the animals survive and flourish, and gives the students a place to learn so they could help the animals in the future. Otherwise, this story did get it's message across on the importance of protecting the environment. Children will enjoy reading this 34 page hardcover picture book. Parents will enjoy the extended questions in the back as well as the word study.