The Wacky World of Wendy White-A Whopper of a Tale by Barbara Ann Bonilla
Come and join me
as I talk with author Barbara Ann Banilla about her picture book The Wacky World of Wendy White on Stories From Unknown Authors
http://blogtalkradio.com/storiesfromunknownauthors
at 1 pm EST today.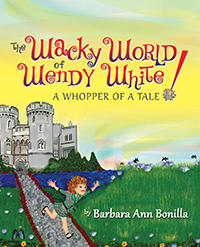 Paperback: 48 pages
Publisher: Outskirts Press (August 8, 2013)
Language: English
ISBN-10: 147871543X
ISBN-13: 978-1478715436
http://www.thewackyworldofwendywhite.com/
The Book:
Peppered with dozens of unexpected food references and marinated in tangy prose, this unique story is a tasty
take on the traditional children's tale. Whipped up by first-time author and bona fide foodie Barbara Ann Bonilla,
"The Wacky World of Wendy White!" tells the story of two very different families' struggles and successes.
The tale centers on 12-year-old Wendy White, a girl of simple tastes, who steps away from the White castle in
search of fun ,food, adventure, and camaraderie.
Wendy's journey through many miles and years brims with unexpected turns – and a chance at the family she always dreamed about. "The Wacky World of Wendy White!" offers readers young and old a delicious tale with warm lessons
in the virtue of patience, persistence and optimism. It's a wonderful story to be enjoyed time and time again.
Bio:
A native New Yorker, first-time author Barbara Ann Bonilla has resided in Manhattan for over 40 years. As an experienced home cook from a long line of Italian chefs, Barbara is not afraid to admit that that she's also a fast-food junkie with a major sweet tooth. Her favorite meal is a Big Mac with extra special sauce. In her spare time, she watches too much reality TV and appears on game shows.
Amazon Link:
http://www.amazon.com/dp/147871543X/ref=asc_df_147871543X2825473?smid=ATVPDKIKX0DER&tag=dealt529148-20&linkCode=asn&creative=395093&creativeASIN=147871543X
Review:
The Wacky World of Wendy White is a humorous story filled with interesting prose which involves the names of many well known restaurants and goodies. When Wendy misses the comfort of her friend, Denny, she darts off away from her White Castle to find her, and goes on an adventure. She realizes too late that she has bitten off more than she could chew and runs into one problem right after the other.
Along her journey she meets a bully who puts her in a box, but fortunately she was freed when a cow named Burger King saved her. She finally bumps into the friend she was looking for while making another. They bond together over famous foods and Wendy visits her friends home where she lives on a farm filled with interestingly named animals. Being apart of a large family, Wendy got the feel of being around lots of people. She missed the warmth of family especially when it was just her and her father, Papa John. But interestingly enough Denny's mother was widowed and was a fine woman. The families became good friends and Wendy was never alone again. But what would happen to Wendy along her life's journey?
The author does an amazing job incorporating all the food items and names seamlessly into the story. There was about 30 in the first chapter alone. The addition enhances the story bringing in some humor the reader will appreciate. Kids will delight in trying to find all the food items in the story and will recognize many of the restaurant names. The author put a clever twist on a story that adults as well as children the ages of 5 and up will enjoy.